Some Questions about Nuclear
The Great East Japan Earthquake that occurred on March 11, 2011 and the subsequent nuclear power plant accident left a great deal of damage and deep wounds on the hearts of the Japanese. Especially with regard to the issue of nuclear power, it made us aware of the fundamental question, "Who does information belong to?"
Despite criticism of incomplete information disclosure starting from the beginning of the accident, the Japanese government seemed unwilling to disclose information that citizens should know.
However, almost 11 years after the accident, despite the fact that there are still more than 67,000 evacuees (as of January 2021) and the continuing problem of contaminated water, the memory of this accident is disappearing from the minds of many people.
This project begins with the questions of what to do and what can be done about the highly scientific, economic, political, and social issues related to nuclear power—not only as an artist but also as a citizen.
This work consists of two media: "Map for inspection of radioactive substances in food in Japan" (completely revised in March 2021) and "Video interviews in Asia including Japan".
2011年3月11日に起きた東日本大震災とその後の原子力発電所事故は、多大な被害と日本人の心に深い傷を残した。特に原発問題については「情報は誰のものか」という根本的な問いを私たちに投げかけた。事故当初から不完全な情報公開が批判されたにもかかわらず、市民が知り得るべき情報を政府が積極的に公開していく姿勢は見えなかった。しかし、事故からおよそ11年近く経った今、現在でも6万7千人強(2021年1月時点)の避難者や汚染水問題もあるにもかかわらず、この事故は多くの人々の記憶からは遠い存在となりつつある。
本プロジェクトは原発問題という高度に科学的、経済的、政治的、社会的な問題に対してアーティストとしてだけでなく一人の市民として何をすべきなのか、できるのかという問いから始まっている。
本作品は、「日本における食品中の放射性物質検査マップ」(2021年3月に全面改訂)と、「日本を含むアジアでのビデオインタビュー」の2点で構成されている。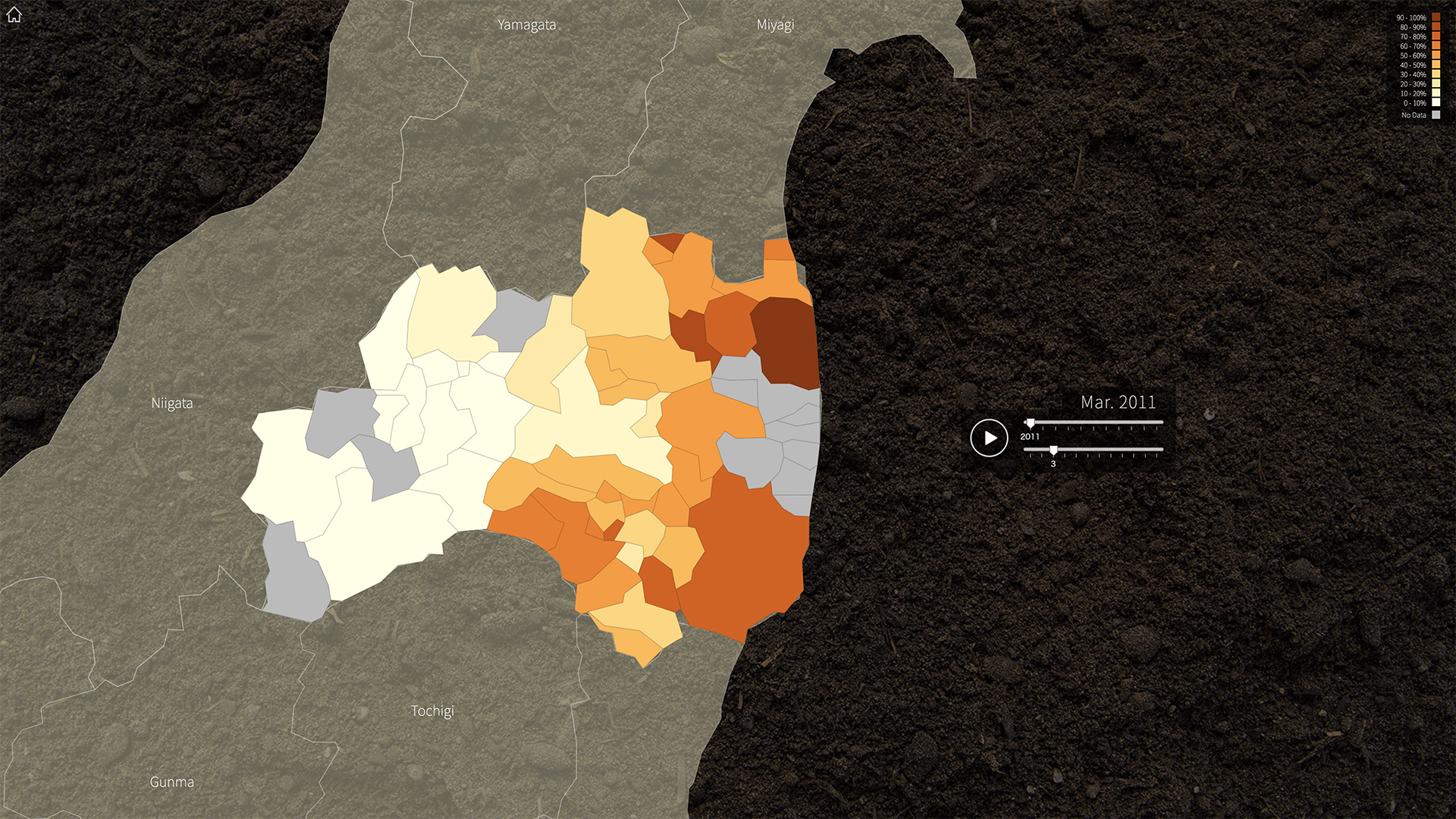 4 channel Video Installation and website written in Javascript, d3.js
Project Direction / Installation / Software Development: Yasushi Noguchi
Database Team: Yuki Ando, Yutaro Osawa, Kohei Mikami, Shintaro Mizoi, Yasushi Noguchi
Documentation Video: Hideto Miyuki
Photography: Yuichiro Tanaka
Interviewees
Amudha & Bhuvaneshwari, Mizuho Fukushima, Nguyen Thi Hoa, Chieko Igari, Takee Igari, Hitomi Kamanaka, Hiroaki Koide, Nguyen Li Nihh, Hideo Oguro, Lydia Powell, Nguyen Khac Phong, V. Pugazhendhi, Syu Saito, Yuka Saito, Kumar Sundaram, Kazue Shiino, Sumilhra, S. P. Udayakumar, Vedagiri, K. Valarmathi
Acknowledgment
Prayas Abhinav, Yuki Ando, Kexin Chen, Arati Chokshi, Toshiaki Horie, Kinuko Iizuka, Ayaka Ishii, Neeraj Jain, Nityanand Jayaraman, Tatsuki Kengaku, Shinobu Masubuchi, Kohei Mikami, Shintaro Mizoi, Misato Muto, Yutaro Osawa, Emiko Otsuka, Sharath Chandra Ram, Anders Sandell, Kazue Shiino, Misaki Watanabe, Misaki Yokosuka
Special Thanks: Kazue Shiino, Shinobu Masubuchi