Receipt Project
Collaboration with Kazz Sasaguchi
This project is a participatory art project and also a sociological study utilizing data visualization.
Viewers participate in the project by donating their own receipts. Each receipt is collected, and my team spatiotemporally maps them one by one based on geographic and chronological information to create an installation built entirely of receipts. The installation will continue to grow during the exhibition period.
In addition, the information on the receipts is visualized as 3D graphics by a data visualization method, revealing the activities of participants, trends in purchase history, distribution of profits to shareholders, etc. to create an intriguing picture of a hidden social structure.
This project is essentially the analysis of pieces of paper (receipts) that represent a largely unnecessary accumulation of personal information, with the aim of clarifying the kinds of capitalism and authority with which we are all unconsciously involved.
本プロジェクトは、参加型アートプロジェクトであり、データビジュアライゼーションの手法を使った社会学的研究でもある。
鑑賞者は各自のレシートを提供することによって、プロジェクトに参加する。各自のレシートは回収され、作者らのチームが一枚ずつ地理情報と時間情報をもとにして時空間的にマッピングし、レシートによるインスタレーションを作成する。そして、このインスタレーションは会期中常に成長する。
さらに、レシートの情報はデータビジュアライゼーションの手法によって3次元グラフィックとして可視化され、参加者の活動、購入履歴の傾向、株主への利益の分配などが露わになり、隠れた社会構造が表出する。
本プロジェクトは、レシートという一見多くの人にとっては不必要ながら個人情報の塊である紙切れを仔細に分析することにより、私たちがどのような資本や権威の庇護のもとに無自覚に生きているかを明らかにする。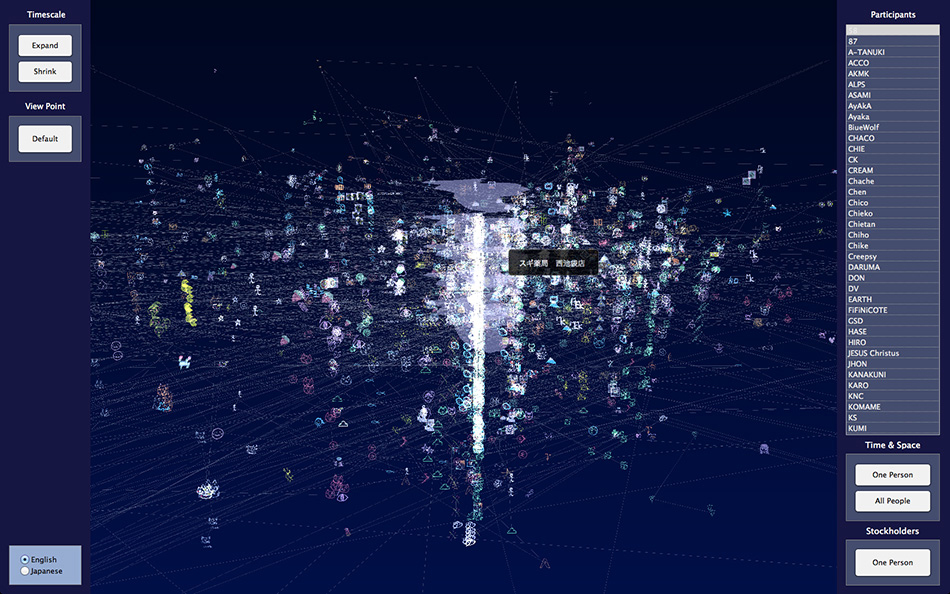 Interactive Installation, Custom Software Written in Objective-C
Project Direction / Installation: Yasushi Noguchi
Software Development: Yasushi Noguchi, Jun Masuda
The Support of Installation Design: Kazz Sasaguchi
Photography: Yuichiro Tanaka
Project Team
Iku Hasegawa, Saki Inaba, Nao Ishihara, Ayaka Ishii, Tatsuki Kengaku, Sara Kikuchi, Ai Kito, Kento Kobayashi, Miyuki Kumagai, Kohei Mikami, Yuta Nakamura, Yutaro Osawa, Sho Shindo, Kazuyoshi Sasagawa, Hiroki Uwatoko
Documentation Video: Soichiro Nakahara