Collected Remembrance -Fieldart in Yatsuo-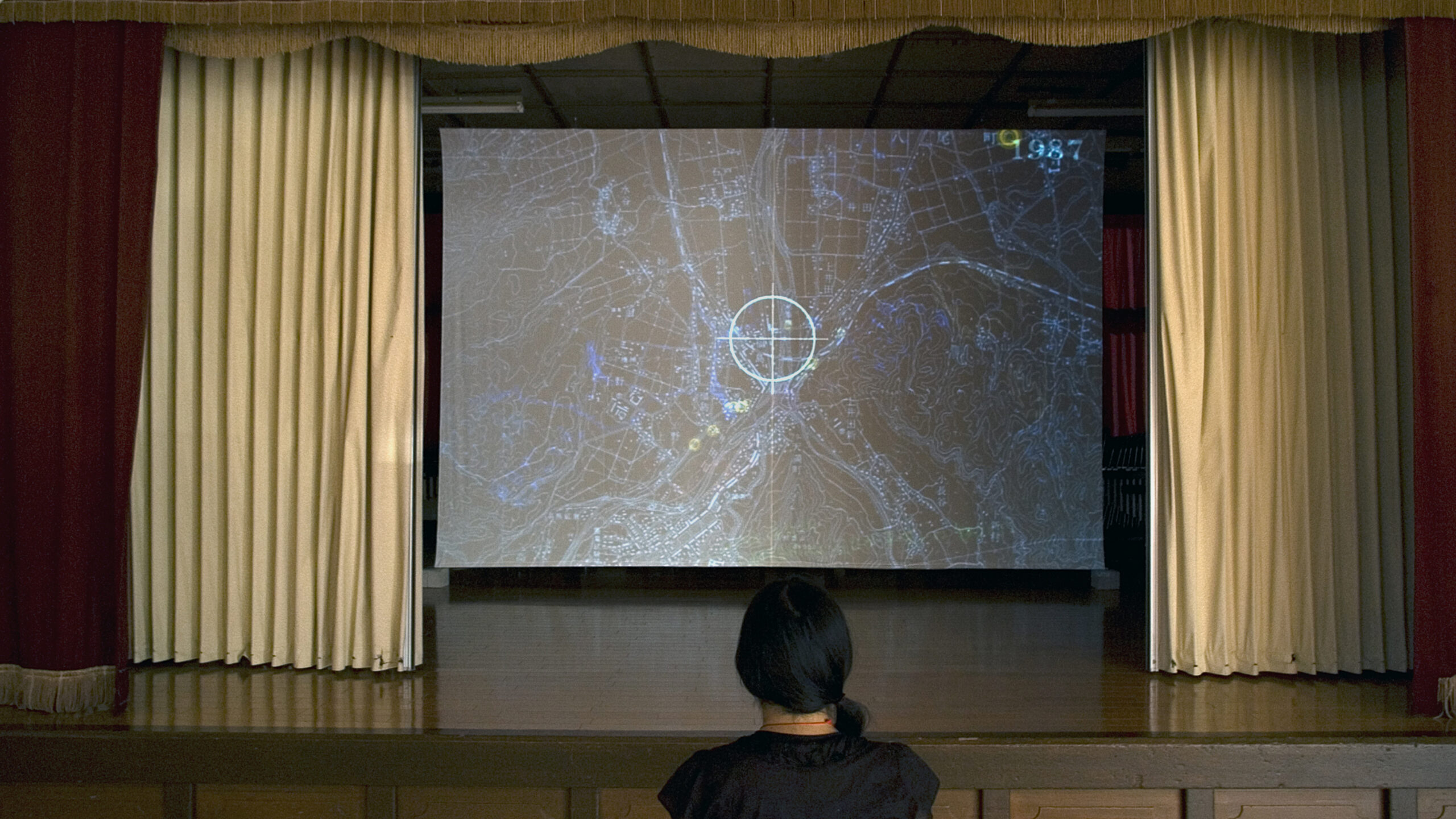 Yatsuo Town in Toyama Prefecture is a historical city known nationwide for its traditional "Owara-Kaze-no-Bon" festival, but it has faced increasing problems such as the fading of traditions and depopulation.
I asked people living in this area to talk about their "memories of the place at that time", and then, by collecting and mapping their voices, I was able to reconstruct collective memories from the past to the present of the historical city of Yatuo.
The memories and emotions I collected were presented in the form of experiential installations using spatiotemporal maps. By operating the controller, participants were able to relive the memories and emotions of the people of Yatsuo Town while wandering around in the time-space map.
富山県八尾町は、伝統的な祭りである「おわら風の盆」で全国的に知られている歴史の街だが、伝統の継承や過疎化などの問題を抱えている。
作者は、この地域で暮らす人々に「その時のその場所での思い出」を語ってもらい、その声を集めてマッピングすることによって、八尾という歴史のある街の過去から現代に至るまでの集合的記憶を再構成するプロジェクトを行なった。
最終的に集められた記憶や感情は、時空間マップによる体験型インスタレーションの形で発表された。体験者は、コントローラを操作することで、時空間マップの中を彷徨いながら、八尾町の人々の記憶と感情を追体験することができる。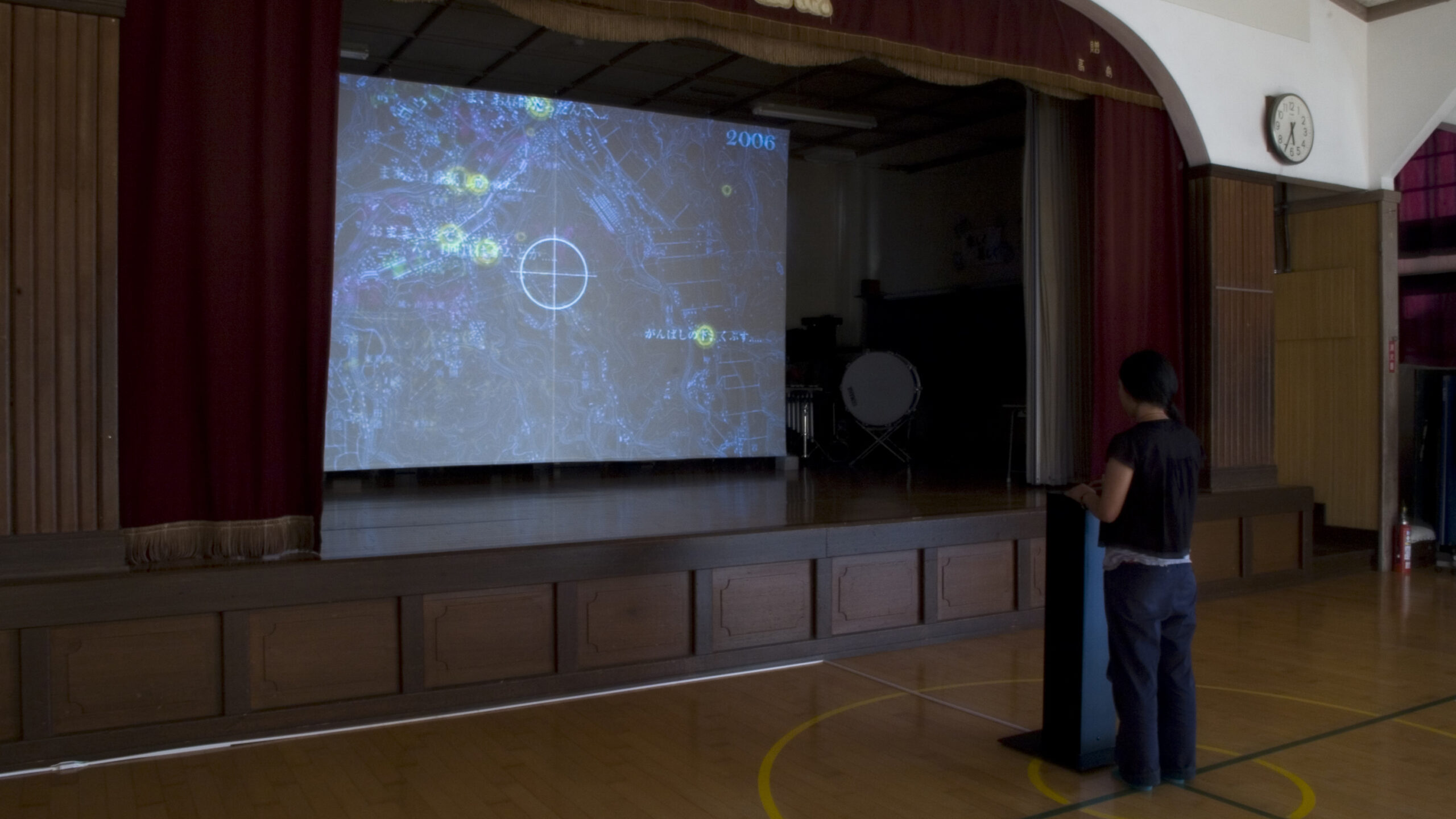 Interactive Installation, Custom Software written in Objective-C
Project Direction / Software Development / Installation: Yasushi Noguchi
Photography: Asuka Miyamoto, Aki Inomata, Takahito Era
Special Thanks: Tomokazu Ishiguro, Aki Inomata, Rieko Iwakura, Takahito Era, Kazuaki Saito, Shinichiro Naganuma, Katsuhiko Fujii, Asuka Miyamoto, Kasuyo Murakami, Naoyuki Yamaguchi
Director of Photography: Hiroaki Nagashima
Editor: Hiroaki Nagashima, Yasushi Noguchi
Acknowledgements: Teruo Arai, Tomokazu Ishiguro, Shinobu Ichikura, Ryuichi Urayama, Aiko Obara, Makoto Kanai, Masashi Kiritani, Shunichi Kiritani, Toshiko Kirino, Akiko Kuze, Tsuyoshi Takahashi, Terue Shimizu, Hiroshi Sugiyama, Itsuro Sunayama, Akira Tabata, Takeshi Nakagawa, Yoichi Nakagawa, Fusako Hashizume, Kayoko Harada, Kimikazu Hirata, Fusako Hashizume, Kayoko Harada, Kimikazu Hirata, Masako Hirata, Katsuhiko Fujii, Fumihiko Funazaki, Yuko Funazaki, Sanae Matsuda, Akira Mitsui, Junko Miyagawa, Keiko Miyata, Asuka Miyamoto, Keiu Miyamoto, Shoji Miyamoto, Yasuko Miyamoto, Yamazaki, Hiroyuki Yamazaki, Kento Yamada, Chisato Yamada, Hiromu Yamada, Makoto Yamada, Kazuo Yuasa, Atsushi Yoshida, Ichiro Yoshimori
Venue: Kashio Elementary School
Exhibition Director: Naoyuki Yamaguchi
Sponsored by: Committee of Support for the Transmission and Development of Traditional Culture in Regional Areas
C-Sponsored by: Committee of Yatsuo Slow Art Show 2007
Commissioned by: Japan Science and TEchnology Agency